Regular price
Sale price
$18.95 USD
Unit price
per
Sale
Sold out
10th Mountain Assault Brigade "Edelweiss"
The brigade was formed on 30 October 2015 in Koloymia, part of Operational Command West. It included the 24th Separate Assault Battalion, the former
Aidar Battalion
.
[1]
The brigade's first commander was Colonel and
Hero of Ukraine
Vasyl Zubanych
, a former battalion commander in the
128th Mechanized Brigade
. In an interview at the time, Zubanych stated that the brigade would be deployed to the
Donbas
if necessary in a war with Russia.
[2]
The main purpose of the brigade at the time was to protect
Northern Bukovina
from Romanian territorial claims.
[3]
[4]
The first group of recruits were 1,000 volunteers on a contract basis. There initially was a 25% pay increase offered to recruits, as recognition of their status as mountain troops.
[5]
In January 2016, it was reported by the Ukrainian Ministry of Defence that the brigade was ready to begin combat training.
[6]
As of January 2016 the brigade was stationed at
Bila Tserkva
pending completion of new barracks in Kolomyia.
[7]
In February 2016, it was decided by the Ukrainian Ground Forces to form a new Bukovina mountain battalion at
Chernivtsi
. The 8th Separate Motorized Infantry Battalion
[8]
and the 46th Separate Special-Purpose Battalion "Donbas-Ukraine" also became part of the brigade.
[9]
The 8th Motorized Infantry, the 24th Assault, and the 46th Separate Special Purpose Battalion formed the entirety of the brigade, consisting of a few thousand men
Share
View full details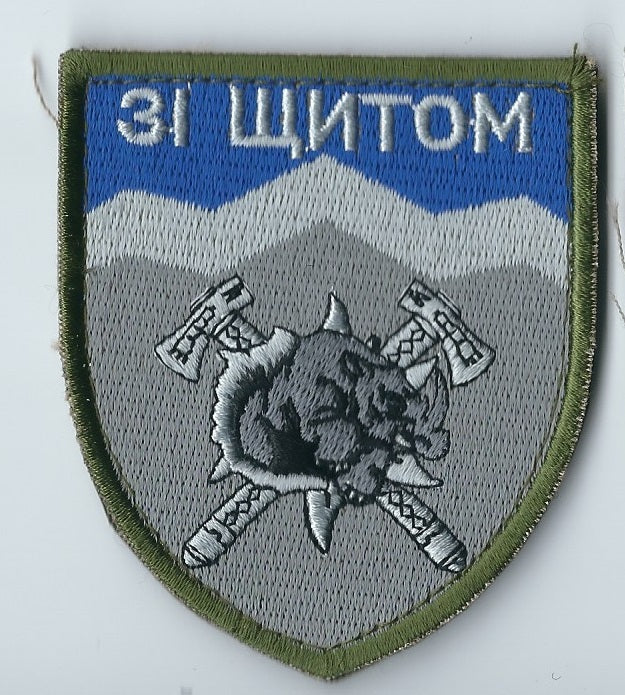 Azov Collection
The most full collection of Azov patches
The Azov Special Operations Detachment (Ukrainian:
Окремий загін спеціального призначення «Азов», romanized: Okremyi zahin
spetsialnoho pryznachennia "Azov"), also known as the Azov Regiment
(Ukrainian: Полк Азов, romanized: Polk Azov) or Azov Battalion until
September 2014, is a unit of the National Guard of Ukraine based in
Mariupol in the coastal region of the Sea of Azov. Azov formed as a
volunteer paramilitary militia in May 2014, and has since been fighting
Russian forces in the Donbas War. It first saw combat recapturing
Mariupol from Russian forces and pro-Russian separatists in June 2014.
It initially operated as a volunteer police company, until it was
formally incorporated into the National Guard on 11 November 2014. In
the wake of the 2022 Russian invasion of Ukraine, the battalion gained
renewed attention for its use by Russia in justifying the invasion and
during the Siege of Mariupol for its role in the defense of the city.