Regular price
Sale price
$19.95 USD
Unit price
per
Sale
Sold out
UKRAINE NAVY 801 separate underwater anti-sabotage detachment Combat swimmers
The main tasks of the unit are protection of naval bases, counteraction to sabotage, terrorism and piracy. To perform these tasks, the detachment performs both operational-combat and planned-preventive operations. Combat missions: search and destruction of sabotage bases and hiding places, PEP means, protection of water areas, ships and their parking places, hydraulic and other structures; elimination of sabotage and reconnaissance groups; capture and release of ships and other objects; ensuring the operations of other law enforcement agencies; search and clearing of mines, check of a condition of protection of the state objects; participation in peacekeeping operations.

During the years of its existence, the detachment's fighters took part in the multinational international exercises "Sea Breeze", anti-piracy operations "Ocean Shield" and "Atalanta". With the beginning of the military invasion of the Russian Federation into the Crimea in 2014, out of 80 personnel of the unit, 7 servicemen left for the mainland of Ukraine. The new location of the unit is in Odessa. Soldiers of the unit took part in hostilities in eastern Ukraine. On March 2, 2015, the reconnaissance group of the 801st Battalion arrived in the village of Pyshchevyk, where it encountered Russian terrorists. One soldier was killed in the battle - senior sergeant Oleksandr Strelyuk, the other died on the way to the hospital - midshipman Oleh Storozhenko. Two more were wounded, one seriously. In January 2018, the detachment was trained in the waters of the port of Odessa in the training center "Lisozavodsk" with the participation of the sanitary boat "Sokal". The experience of detecting an underwater explosive device with its disposal was demonstrated, as well as assault actions to release the hostage on board the ship. December 6, 2021, on the Day of the Armed Forces
Share
View full details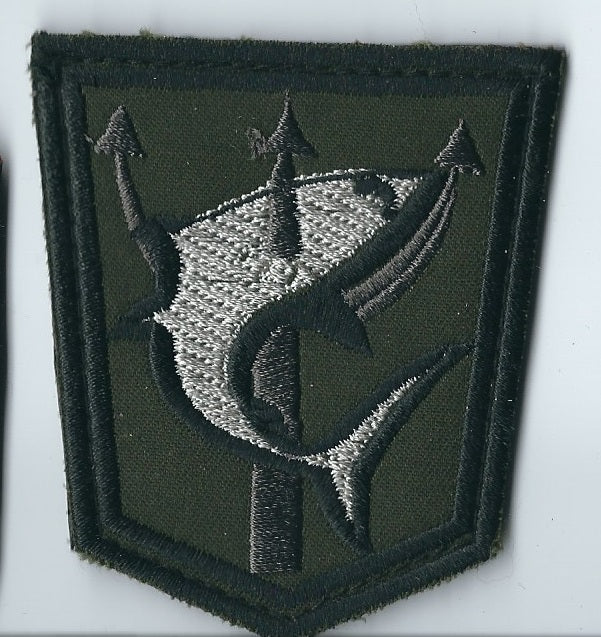 Azov Collection
The most full collection of Azov patches
The Azov Special Operations Detachment (Ukrainian:
Окремий загін спеціального призначення «Азов», romanized: Okremyi zahin
spetsialnoho pryznachennia "Azov"), also known as the Azov Regiment
(Ukrainian: Полк Азов, romanized: Polk Azov) or Azov Battalion until
September 2014, is a unit of the National Guard of Ukraine based in
Mariupol in the coastal region of the Sea of Azov. Azov formed as a
volunteer paramilitary militia in May 2014, and has since been fighting
Russian forces in the Donbas War. It first saw combat recapturing
Mariupol from Russian forces and pro-Russian separatists in June 2014.
It initially operated as a volunteer police company, until it was
formally incorporated into the National Guard on 11 November 2014. In
the wake of the 2022 Russian invasion of Ukraine, the battalion gained
renewed attention for its use by Russia in justifying the invasion and
during the Siege of Mariupol for its role in the defense of the city.